ANALISIS KANDUNGAN FORMALIN DALAM JAHE GILING DAN LENGKUAS GILING YANG DIJUAL DI PASAR TRADISIONAL DI WILAYAH KOTA PADANG
Abstract
This study purpose to identify formalin content in food material. Prior research has showed that formalin has negative impact to human health and according to the problem, more research related to formalin content in food is necessary. Soft ginger and soft galingale are fresh ingredients which have short time store.There are so many merchants and  home industries using foodadditional ingredient to extend the keeping time by using conserving agent. The aim this research is to get information about the formalin usage in soft ginger and soft galingale for sale in Padang traditional market by using Purposive Sampling method.The Samples are collected from the most popular merchants and formalin content is measured by using spectrophotometer. The result show that formalin test is negative.
Keywords: Formalin, soft ginger, soft galingale, spectrophotometer
ABSTRAK
Formalin dalam bahan makanan berpengaruh negatif terhadap kesehatan sehingga diperlukan penelitian tentang formalin. Jahe giling dan lengkuas merupakan bahan yang berasal dari bahan segar dengan masa simpan tidak tahan lama, sehingga banyak pedagang maupun pelaku industri rumah tangga menggunakan bahan tambahan pangan untuk memperpanjang masa simpannya diantaranya penggunaan bahan pengawet . Penelitian ini bertujuan Untuk mengetahui adanya penggunaan formalin pada jahe giling dan lengkuas giling sebagai pengawet yang dijual di pasar tradisional di wilayah kota Padang. Penelitian ini menggunakan metode Purposive Sampling, sampel diambil dari pedagang yang paling ramai dikunjungi dan paling banyak menjual jahe giling dan lengkuas giling. Hasil penelitian menunjukkan bahwa uji formalin pada Jahe giling dan Lengkuas giling teridentifikasi negatif dengan menggunakan spektrofotometer.
Kata Kunci : Formalin, jahe giling, lengkuas giling, spektrofotometer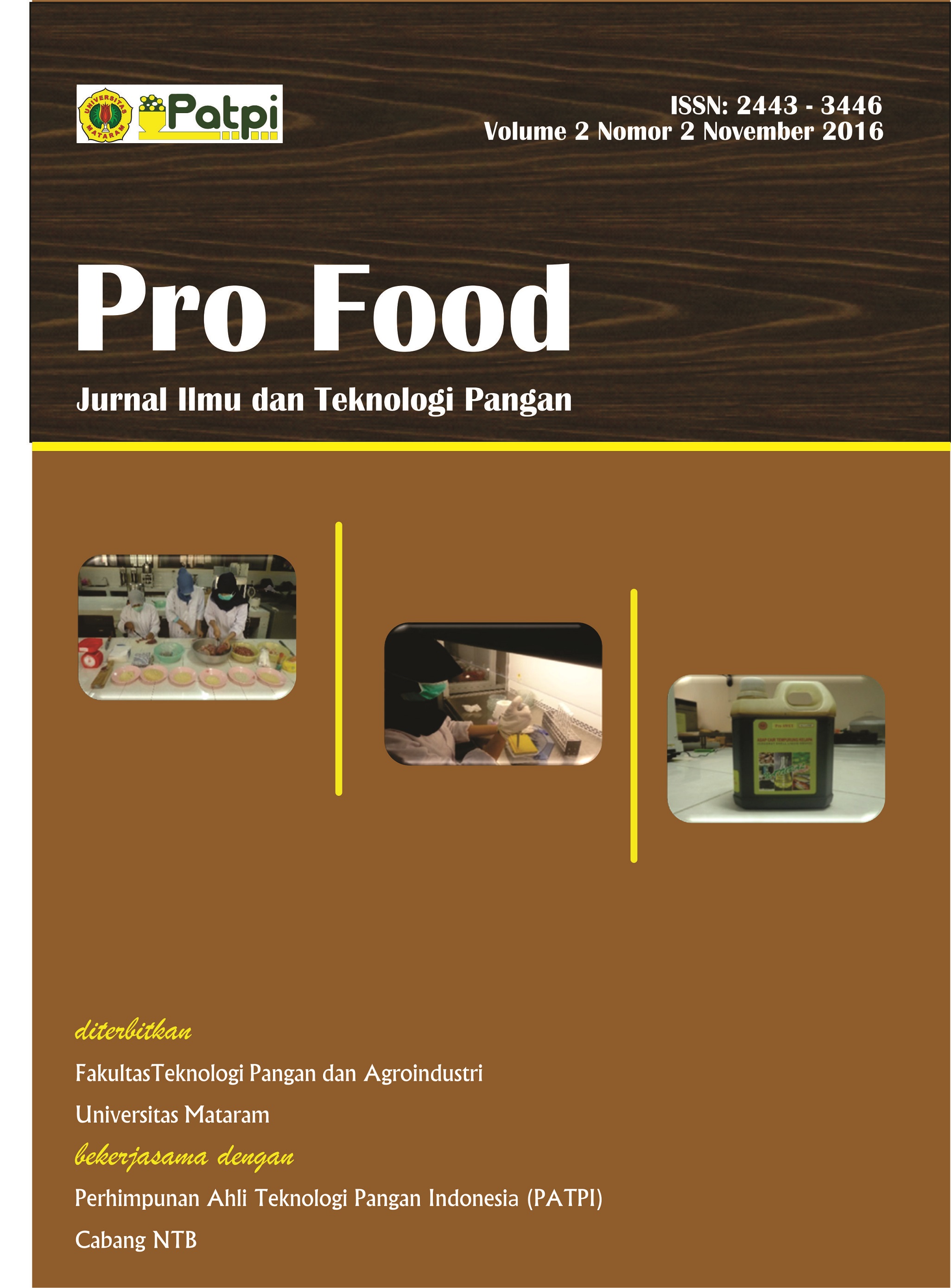 How to Cite
ANGGIA, Malse. ANALISIS KANDUNGAN FORMALIN DALAM JAHE GILING DAN LENGKUAS GILING YANG DIJUAL DI PASAR TRADISIONAL DI WILAYAH KOTA PADANG.
Pro Food
, [S.l.], v. 2, n. 2, p. 127-130, mar. 2017. ISSN 2443-3446. Available at: <
http://profood.unram.ac.id/index.php/profood/article/view/27
>. Date accessed: 21 sep. 2020.